Bye Bye Blackheads
Unclog and refine pores by removing skin toxins, excess oil and blemish-causing impurities. Gentle yet effective for all skin types, even sensitive skin. Powered by Plantolin. Our exclusive, patented extract.
This pack is an awesome collection of products that take you through your daily skincare routine from morning to night with additional spa-like treatments in between. Cleanse and Moisturize every morning and night and use the Micellar Water to help remove makeup or even as a quick refresh anytime. You choose whether you prefer to apply the Serum am or pm, or maybe both! 1-2 times a week treat yourself with the Scrub and Mask to exfoliate and deep clean your skin for naturally healthy and beautiful skin. You can use the Scrub and Mask at the same time or on separate days. Remember to always follow with the serum and/or moisturizer. Luv Ur Skin is gentle enough for all skin types, even sensitive skin.
Freshen Up: Cleansing Micellar Water
Take Off: Gentle Face Wash
Scrub Off: Pure Bamboo Face Scrub

Clear Up: Pore Minimising Clay Mask

Power Up: Booster Face Serum

Calm Down: Soothing Face Moisturizer

Mask Brush
Calm
Plantolin® reduces skin irritation, inflammation and redness to soothe and calm, which promotes natural skin healing, helping restore and renew skin cells naturally.
Restore
Rosehip Oil is very effective in helping to reduce the appearance of scars, blemishes and skin pigmentation. It's combination of potent antioxidants, essential fatty acids, Omega 3 & 6 Vitamins C and E penetrates your skin easily, making it an essential skincare ingredient, leaving the skin nourished, balanced and bright.
Strengthen
Bilberry contains powerful astringent properties for cleansing, tightening and toning to help balance oiliness. It's packed with antioxidants to help strengthen skin against signs of redness, due to its calming properties and has the ability to lighten and brighten the skin.
Repair
Vitamin E helps support cell function, and skin health with its powerful antioxidant properties, making it effective at combating the effects of free radicals and toxins in skin. Vitamin E may also be beneficial at reducing UV damage and promote skin healing d to help reduce scarring when applied to skin. Also an excellent moisturiser, Vitamin E offers exceptional skin-conditioning properties.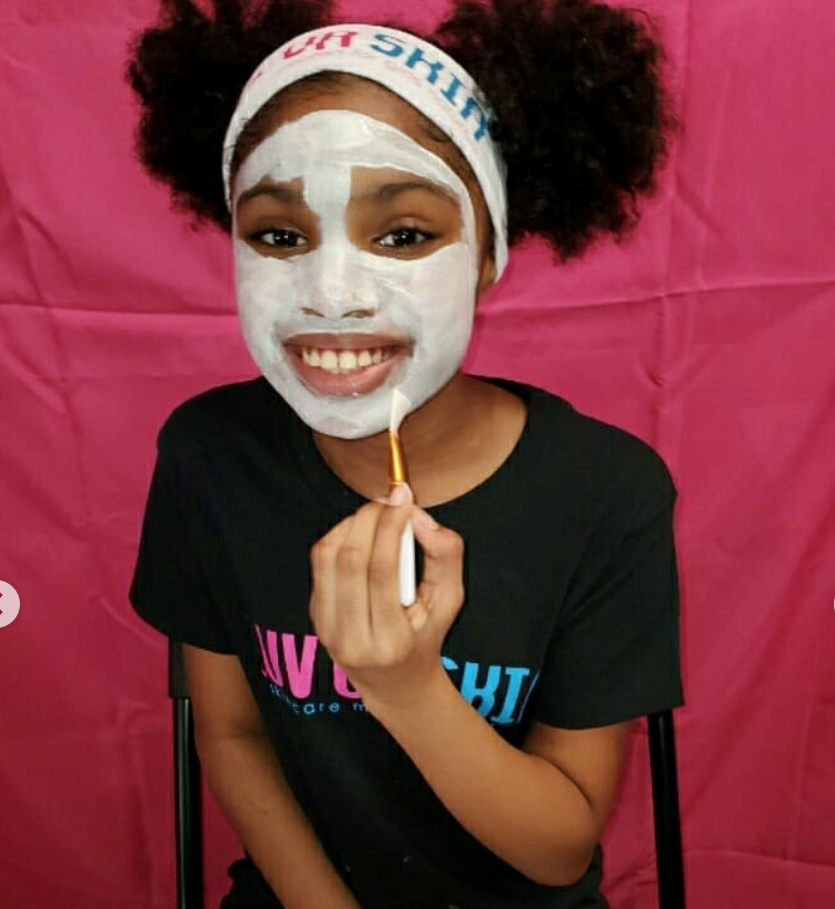 How To Use
Step 1:  Use the Freshen Up Micellar Water to pre-cleanse or remove makeup.
Step 2: Clean your face with the Take Off Gentle Face Wash every morning and night using warm water to foam up and massage over face and neck. Use a wet facecloth to help remove. Pat dry.
Step 3: A couple times a week use the Bamboo Face Scrub after washing face to exfoliate. Gently massage a small amount of the Scrub all over a wet face. Gently wipe off with a wet cloth as well, rinse and pat dry.
Step 4: Apply the Clear Up Pore Refining Mask in a thin even layer using the mask application brush (or your fingers) to clean and dry skin. Let dry for 10 - 15 minutes. Remove with a wet face cloth. Pat dry.
Step 5: Apply a small amount of the Power Up Face Serum all over your face. Let absorb for a minute.
Step 6: Apply a small  amount of the Calm Down Soothing Face Moisturizer all over your face and neck.
Smile Gorgeous!
For a Daily morning and night time routine, simply eliminate the Scrub and Mask.
Bringing Revolutionary Results
Luv Ur Skin is the only skincare line in the world, for young tween and teen skin, that contains Plantolin, a revolutionary biological extract with natural anti-inflammatory and antioxidant properties. These properties work together to create a synergistic effect that heals, renews, and protects your skin.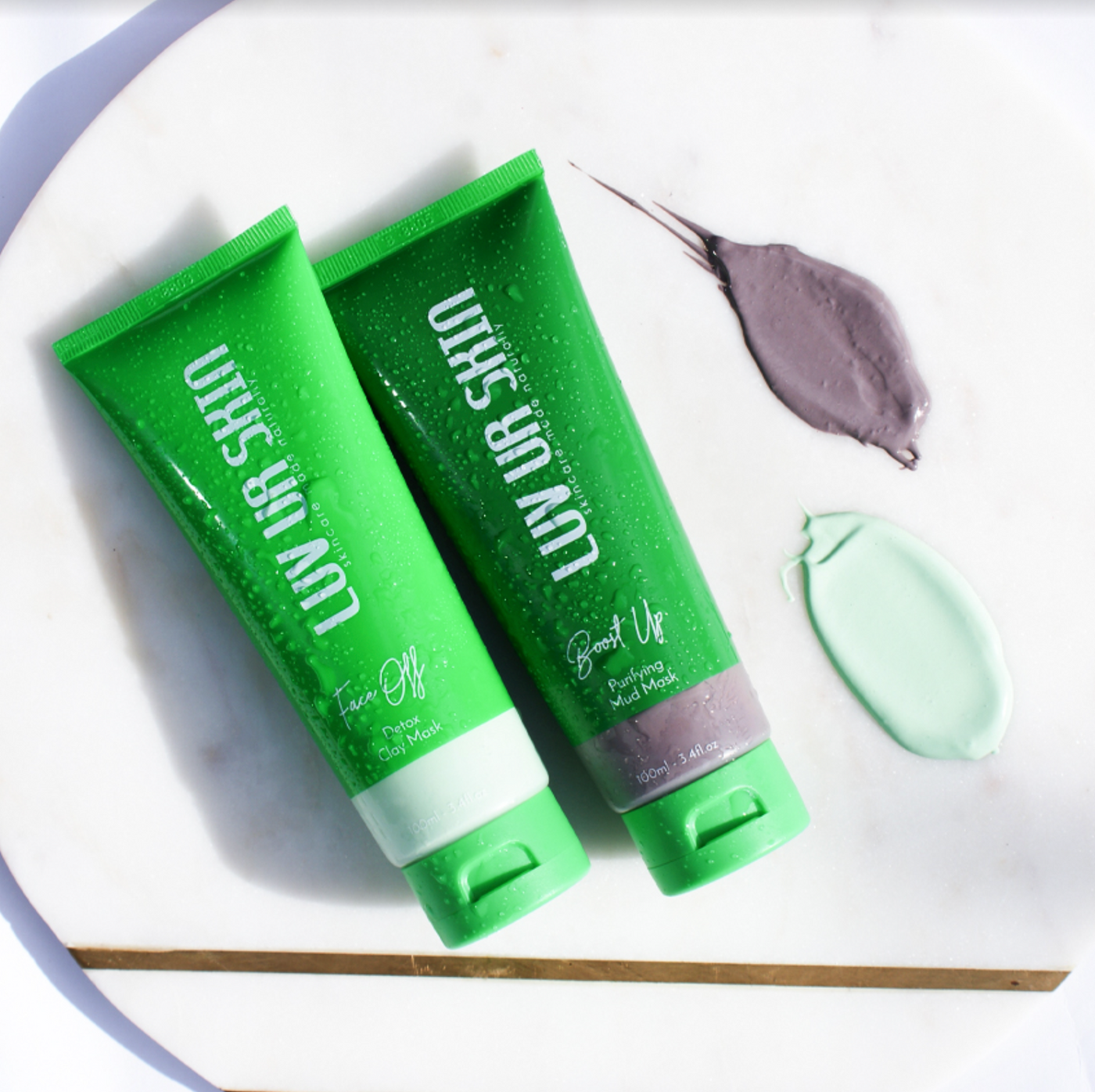 Naturally Soothing
Some key ingredients in our masks include Pomegranate Extract, Goji Berry, Jojoba Oil and Rosehip to combat breakouts and relieve inflamed skin. Luv Ur Skin was made with you in mind, specially formulated for tweens and teens to be gentle and effective to help keep your skin looking and feeling its best. Our amazing range of natural face masks have been tailored to your skin's specific needs, from our Purifying Mud Mask and Refining Clay Mask to our Detox Clay Mask and our Pure Bamboo Scrub.
Adaptable For Your Lifestyle
Shop our Spa Range to discover skincare designed for tweens and teens that's natural, non-toxic and non-irritating, even on sensitive skin. These products are Australian-made to meet high standards of quality. We also make our products easy to use so that you can create a healthy skincare routine to give you the best start you need to keep your skin beautiful, clean and clear for life.